Sam Nafziger had worked in a variety of jobs - in an office setting, for a home healthcare company, in a butcher shop and as a personal trainer in a gym - but none of those roles gave him a sense of fulfillment, so he thought about going back to school to find a new career. With the guidance of his father, Sam decided to explore the possibility of entering Trades Training at Conestoga.
Building and creating at home was something Sam thoroughly enjoyed. Although the thought of turning his hobby into a career was nerve-racking, he followed his dad's advice and registered in Gas Technician courses through Continuing Education. Entering this field allowed him to further his personal interests while being paid to learn something he really enjoyed.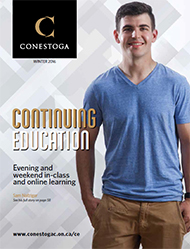 We recently had the opportunity to speak with Sam about his journey with Conestoga and how it has helped create new opportunities for his new career.
What would you describe as some of the strengths you found in these courses?
The biggest strength I found was the variety of classmates. While a few were making a career change, many were already experienced within the trades industry. The practical knowledge of my classmates provided a variety of views on the coursework.
How did your instructors and these courses prepare you for the real world in this industry?
My instructor Mike continuously shared his personal experience in the field. He took the time to relate the course material to his real-world experience and encouraged my classmates and me to do the same. This was valuable as it bridged the gap between real world and textbook in a way I hadn't seen before.
What positive outcomes have come from continuing your education?
The trades industry fits my personal hobby background well. Where I was unsatisfied and unfulfilled with my work previously, I am now able to stand back at the end of the day and say, "I did this. I built this."
How were you able to fit the course work into your day-to-day life?
My courses were in the evening and during the week which allowed me to complete my courses on my own time, not interfering with everyday life.
Sam shared some advice with others considering Conestoga's part-time programs and courses:
"Pursue your career aspirations. The staff and courses at Conestoga have helped me to get into a career I now enjoy every day."