"The course was very well organized and offered the flexibility I needed to maintain success at work while continuing my education."
Seeking to refine her skill set for career advancement, Sammy Mutti turned to Conestoga and successfully completed the Geographical Information Systems Software-ArcView course delivered through online learning.
We recently had the opportunity to speak with Sammy about her pathway to Conestoga and how her learning has helped in providing her with new skills to gain a competitive edge in her profession.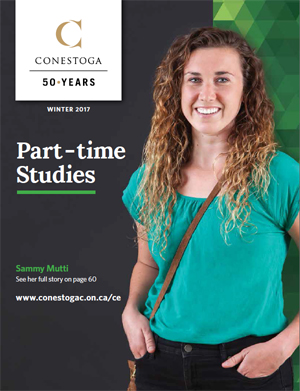 1. Describe your pathway to Conestoga.
I was initially directed towards enrolling at Conestoga by my employer. I am currently working as a water resources engineer for a municipal water and wastewater consulting firm in the Region of Waterloo. A large portion of my job responsibilities includes utilizing GIS-based hydraulic modeling software to analyze municipal water supply and distribution systems. I started my job with very little exposure to ArcGIS software and turned to Conestoga to develop and refine my skill set.
2. What would you describe as some of the strengths you found in your course?
The course was very well organized and offered the flexibility I needed to maintain success at work while continuing my education. I enjoyed the online discussion boards and the ability to interact with my classmates when I needed clarifications on the course material or when completing assignments. My course instructor was also key to the success of the course - the instructor responded in a timely manner to all questions and was easily contacted if any problems came up.
3. What was your reason for registering in this course?

Although my primary reason was career advancement, personal development and a desire to continue learning when given the opportunity also played a factor.
Geographical Information Systems Software-ArcView was delivered online and suited both Sammy's demanding work schedule and personal lifestyle. When asked about her initial perception of an online course and whether this had changed after her experience, Sammy replied:
"My perception towards an online setting has changed since completing the course with Conestoga. My previous exposure to an online course was during University; I felt isolated and lost at times when I struggled to understand the course material. The vast amount of resources provided to the students by Conestoga (i.e., textbook, discussion boards with classmates, and easy to contact instructors to name a few) made this online experience very enjoyable. The instructor maintained constant communication with the students and responded to questions in a timely fashion. The online course was easy to navigate and the discussion boards made me feel connected to the other students in the course."
4. What positive outcomes have come from continuing your education?
As a young professional, being able to network with like-minded individuals - my classmates - was extremely insightful. Learning how GIS is used in other industries gave me a different perspective and some specific new ideas that I have been able to apply to my projects. This course has certainly given me a competitive edge in my professional life and will benefit both myself and my employer moving forward.
5. How were you able to fit the course-work into your day-to-day life?
The online course setting provided me with the flexibility I needed to fit the work into my day-to-day life. A detailed course schedule was provided at the very beginning of the term which allowed me to prioritize assignments, quizzes and course readings with my job. Being well aware of course requirements and having a flexible course schedule minimized stress and allowed me to excel both in my job and in school.
6. If you could share advice with others considering Conestoga's programs and courses, what would it be?
I highly recommend Conestoga programs/courses! I was unsure at first and thought that part-time studies would be too much of a commitment while working full time. Conestoga courses are extremely well organized and provide a positive and collaborative learning environment for students. Conestoga will lead you to a vast amount of professional and personal development opportunities.
Sammy described her overall experience as a part-time student:
"From the well-organized and flexible courses, to the extensive resources available to the students and professional and knowledgeable staff - Conestoga part-time studies has been a very positive and beneficial experience for me!"
Conestoga College wishes to thank Sammy for sharing her experience.