"I adapted very quickly to the online learning style, and can't imagine the program any other way. It fits so well with my schedule."
After completing her Bachelor of Arts in Psychology at Brock University, Zoe McGhie returned to Conestoga to study Pre-Health. It wasn't long after she began working as a Career Hub Assistant in Conestoga's Career Hub that she quickly realized that Pre-Health was not best suited for her and therefore, she needed to consider an alternate plan for the following year. After meeting with one of Conestoga's Career Advisors one-on-one to discuss some options, she applied to the part-time, online Career Development Practitioner (CDP) graduate certificate program. She loved assisting in the Career Hub and seeing the amazing work the Advisors did in helping the students. She knew that it was something she would enjoy and be passionate about.
We recently had the opportunity to sit down with Zoe and learn about her educational journey at Conestoga.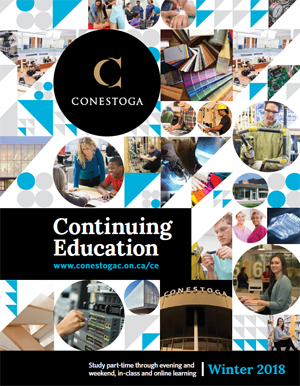 1. What was your reasoning for enrolling in this program?
I knew it would help me advance in my career and achieve my future goals. My short-term goal was to become an Employment Advisor with an Employment Ontario Service Provider. Just 6 months into the program I landed a job as an Employment Specialist with the Kitchener YMCA Employment Services. My long-term goal is to advance in my field and either become a Supervisor or begin working for the Ministry with Employment Ontario. I know without this program I wouldn't have gotten to where I am today, and my long-term goals would be even further out of sight.
2. What would you describe as some of the strengths of the program?
My program is offered 100% online, which means I can complete it anywhere at any time. I had already completed 4 years of school and knew I was ready to start working. Online learning means that I can complete the program while working, without it ever conflicting with my schedule. My professors are always available to help and provide guidance. Some people think that online learning means you will have almost no connection with your professors, but it's the opposite. They are always available by phone, email, Skype, in person, and they host regular webinars for the class to attend and engage with each other. There is a lot of collaboration going on.
3. With your courses delivered fully online, what were your initial perceptions about online learning?
I had taken a couple online courses during my undergrad, so my perceptions were that they would be the same; they would require a lot of self-discipline, good time management and motivation. After experiencing the CDP program online, I find it easy to stay on top of the course load and to stay relevant with the work because I am so interested and passionate about what I am learning.
4. How are you able to fit the course-work into your day-to-day life?
There are weekly discussions that must be completed, so I make sure that I plan ahead. I always look to see what personal or work related events I have going on during the week, and then schedule a time for myself that is free to sit down and complete the postings. As long as you keep yourself organized, and have good time management skills you will have no problem fitting the course into your day-to-day life. I personally like to keep a calendar above my desk with due dates, as well as a daytimer for school and a separate one for work. I also set alarms for major projects to remind myself when they are due.
5. If you could share advice with others considering Conestoga's programs and courses, what would it be?
If you are interested in a career in the field of career development, employment services, or really any related human and social services work this program is fantastic. There are a lot of skills and techniques that are taught that can be transferable to many careers. A large part of the program is based on counselling techniques as well. It's a great asset to any degree or diploma. In addition, there is a practicum portion of the course which helps you gain valuable experience in the field and really helps to jump start your career.
When asked about her overall experience as a part-time student Zoe shared,
"My experience as a part-time student with Conestoga has been nothing short of amazing. Being able to take my classes part-time and online enabled me to work a couple different student jobs at Conestoga, as well as volunteer on and off campus. I would recommend part-time studies to anyone looking to further their learning and/or career because there are so many program options, and part-time studies makes it easier to balance school and life."
Conestoga wishes to thank Zoe for sharing her experience.