"Part-time Studies is a great way to broaden your skills, build your resume and network with like-minded people."
After graduating from Conestoga's full-time Business Administration Marketing program and working full-time for 3 years, Julia Laugalys was looking to grow her career in new directions. Seeking to strengthen her skill set, she enrolled in the part-time Human Resources program.
We recently had the opportunity to sit down with Julia to learn more about her journey as a part-time student at Conestoga.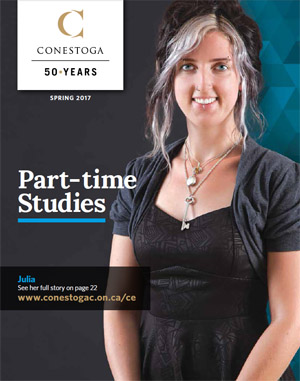 1. What was your reasoning for enrolling in this program?
My reasoning was two-fold: to advance in my current career and for personal development. With the growing trend of workplace compliance such as health and safety training, the course material offers practical knowledge to bring to an employer. I like to make a difference in the lives of others and contribute to the bottom line, so I saw this career path as a good fit for me.
2. What are some of the strengths of the courses?
Many relevant and related topics and projects are introduced to help learn the course material. The instructors are very approachable and eager to see students succeed.
3. How are you able to fit the course work into your day-to-day life?
Online learning is great as it allows me to study at my own pace. It is nice to have the flexibility of self-directed learning so that I can balance school with work and life. Following the course schedule is a good way to remain on track in order to meet the course requirements. It's all about finding the balance and what works best for you.
4. What positive outcomes have come from continuing your education?
Part-time Studies has helped me network with professionals in my industry and advance in my career.
5. If you could share advice with others considering Conestoga's programs and courses, what would it be?
If you're considering part-time courses, it's best to leap in and do it rather than hold off and wait for the right time. Life will always be busy, but you can always find a few hours here and there to make it work. Take something that interests you and consider it a new hobby; you never know where it may take you later. Start with one course to ease your way in, then chip away. Before you know it, you'll have a new certificate or diploma.
6. Do you plan on furthering your development by enrolling in other part-time courses with Conestoga?
I just might. Perhaps I will be a lifelong student. It's always good to be learning something.
Conestoga wishes to thank Julia for sharing her experience.