"It has always been one of my goals in life to better myself in what I do."
Francisco Aparicio has always wanted to continue his education but between family and work, he felt that there was never enough time. After reading about the Manufacturing Engineering program offered through Continuing Education, he knew that it was just what he was looking for. It was only a short day later that he decided to take the leap and enrol in the program. With courses offered both in-class and online, Francisco found the solution for balancing family and work while pursuing his education.
We recently had the opportunity to sit down with Francisco to learn about his educational journey at Conestoga.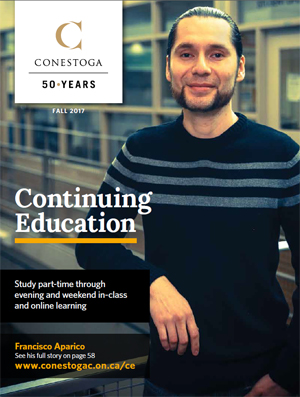 What was your reasoning for enrolling in this program?
I work in the automotive industry and have always wondered how things work. When I read about this program, I believed that it would help me better understand my working environment and provide new opportunities for career advancement and personal development.
What are some of the strengths of the courses?
The courses I have taken have been very helpful in providing relevant industry information. The knowledge and experience that the instructors bring to class is invaluable.
How are you able to fit the course work into your day-to-day life?
Having a full-time job and a family with young children is busy. It is not always easy to fit course work in, but good planning, keeping your eyes on your goal and putting forth extra effort makes it both possible and worthwhile.
What positive outcomes have come from continuing your education?
Continuing my education has given me the satisfaction of learning and understanding new things. I've gained a sense of self-accomplishment as well as the opportunity to set new goals.
Conestoga wishes to thank Francisco for sharing his experience.