Building skills for a changing world
Katrina Jacome is a graduate of Conestoga's Office Administration program and currently works in the Registrar's Office at the college. She takes pride in her work, and enjoys the day-to-day interaction with students and colleagues that the role provides.
She's always had a strong interest in marketing and social media and hopes someday to run her own business, helping local firms and organizations meet their marketing goals.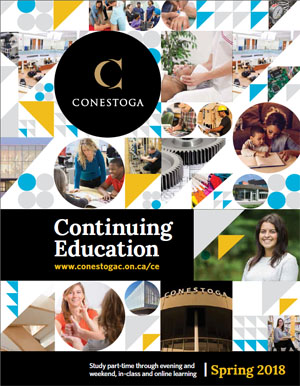 To be successful, Katrina knows that she will need to be able to differentiate herself from other marketers. That's why she decided to apply to Conestoga's part-time, Social Media Marketing graduate certificate program, building both the qualifications and specialized skills to address the newest piece of the marketing puzzle.
We recently had the opportunity to sit down with Katrina to learn more about her educational journey.
1. Describe your pathway to Conestoga, and what inspired you to further your education through continuing education?
I knew this program would help me achieve my career goals and provide me with the confidence I needed to start my own freelance business in social media marketing. I was looking for a program I could complete part-time, and that would include practical hands-on training to help me develop the skills I needed for today's competitive job market.
2. What would you describe as some of the strengths of the program?
One of the biggest strengths of this program are the instructors. They are individuals who currently work in the industry; there isn't a question you can't ask them because they live it every day in their careers. The way that the material was delivered during classroom time was always engaging - that made it easy to participate in classroom discussion and retain the information that was shared.
3. What positive outcomes have come from continuing your education?
I've boosted my confidence and my credibility. Since successfully completing the program, I have built my clientele significantly. When you have a specialized credential from a credible post-secondary institution, it really makes others understand the importance of incorporating social media into their marketing strategy.
4. If you could share advice with others considering continuing education at Conestoga, what would it be?
Furthering your education is always a good idea, especially in an industry that is quickly evolving. It differentiates you from other candidates and enables you to stand out to employers. Whether you're looking to advance your social media marketing and communication skills for your own business, or for a brand you're representing online, this program is highly recommended.
Conestoga wishes to thank Katrina for sharing her experience.